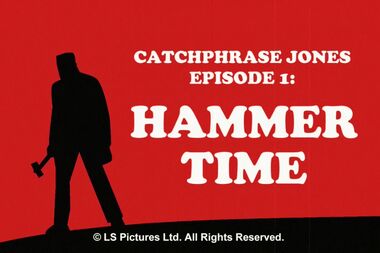 Catchphrase Jones
is a two-time skit in the second season premiere of
Loiter Squad
. The film was produced by Cornell Haley and Loiter Squad Films.
Episode 1: Hammer Time
Edit
Catchphrase Jones fights The Black Claw until he crushes his right hand with a large hammer as the Black Claw vows that he will find Catchphrase Jones.
Episode 2: A Dish Best Served Black
Edit
The Black Claw uses butter knives in a holder as his new hand as he and Catchphrase Jones fight until Catchphrase Jones removes The Black Claw's hand as The Black Claw runs until Catchphrase Jones stabs him until he walks away with one more catchphrase, "They Don't Call Me Catchphrase Jones Because I'm Black" as The Black Claw is still alive.
Lionel Boyce as Catchphrase Jones
Jasper Dolphin as The Black Claw
Ad blocker interference detected!
Wikia is a free-to-use site that makes money from advertising. We have a modified experience for viewers using ad blockers

Wikia is not accessible if you've made further modifications. Remove the custom ad blocker rule(s) and the page will load as expected.